Department of Evolutionary Zoology and Human Biology
University of Debrecen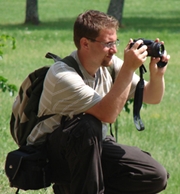 Dr. János Pál Tóth
biologist
ALUMNI MEMBER
Contact details:
Phone
+36 52 512900/62351
Research interests:
Nappali lepke:
taxonómia
faunisztika
populáció ökológia
biogeográfia
tápnövény lepke interakció
Selected publications:
Tóth, J.P. & Varga, Z. (2010) Morphometric study on the genitalia of sibling species Melitaea phoebe and M. telona (Lepidoptera: Nymphalidae). Acta Zoologica Academiae Scientiarum Hungaricae, 56: 273-282.


Tóth, J.P., Bereczki, J., spring, N. & Varga, Z. (2011) Dispersal ability and habitat selection in Melitaea telona kovacsi Varga, 1967 and M. phoebe (Denis & Schiffermüller, 1775) (Nymphalidae) in steppe grassland. Nota Lepidopterologica, 33: 199 – 207.


Tóth, J.P. & Varga, Z. (2011) Inter- and intraspecific variation in the genitalia of the 'Melitaea phoebe group' (Lepidoptera, Nymphalidae). Zoologischer Anzeiger - A Journal of Comparative Zoology, 250: 258-268.

Bereczki, J., Tóth, J.P., Tóth, A., Bátori, E., Pecsenye, K. & Varga, Z. (2011) Genetic structure of phenologically differentiated Large Blue (Maculinea arion) populations (Lepidoptera: Lycaenidae) in the Carpathian Basin. European Journal of Entomology 108: 519–527