Venue
Department of Evolutionary Zoology and Human Biology, Life Science Buildig, University of Debrecen, Egyetem tér 1.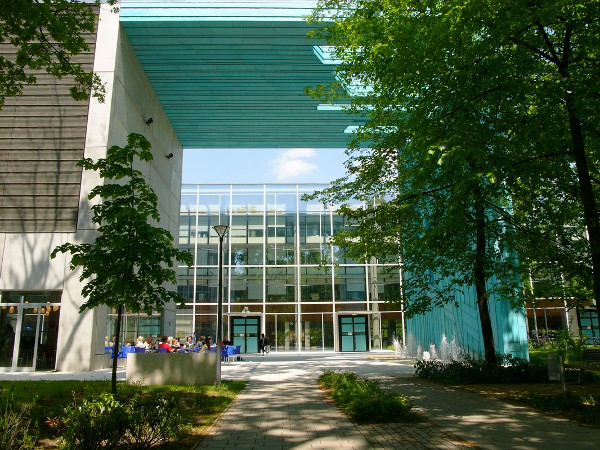 Registration Fee
Registration fee is 2400 HUF (approximately 8€) including tax. The registration fee must be paid in cash (in Hungarian currency) upon checking in. There is an ATM machine on campus that accepts all major credit/debit cards so you can withdraw Hungarian forints from your account.
Welcome reception
On Thursday evening, we organize a buffet welcome reception for participants, meals included. The price for the reception is 4900 HUF (~15€) tax included. Please indicate on the registration form if you would like to join us for the reception.
Meal
We provide lunch and dinner for the participants at the University for an affordable price, so you don't have to worry about meals during the meeting. If you would like to order these meals, please indicate it on the registration form. There is a vegetarian menu option too, please check this box at the registration form, if you would like to choose that.
Lunch: 1800 HUF / meal (tax included)
Dinner: 1550 HUF / meal (tax included)
Wine tasting: ~1500-5000 HUF
The meal fee must be paid upon arrival at the registration. All meal prices include taxes.
Wine tasting tour
On Sunday, we organize a wine tasting tour in Tállya, situated in the heart of the famous Tokaj wine region. We will visit several hundred years old wine cellars and will taste a wide array of spectacular wines, taken directly from the barrels. The price will also depend on the number of participants (different caves have different capacities, and the transportation fees will also depend on how many we will be). But roughly, you can count somewhat between 1500-5000 HUF for the wine tasting (usually 8-13 wines tasted), 1500-2500 HUF for an additional meal in place and the transportation fees. The entire program will probably cost around (or less than) 30€. Please indicate on the registration form, if you are interested, and based on the number of participants, we can provide additional details. We'll negotiate the best prices for the group.
Botanical garden
Just next to the University, where the workshop will take place, there is a nice botanical garden. With the badge of the workshop, you will be able to visit the garden for free.
Accommodation
Participants need to make their own hotel reservations. There are many hotels and hostels in Debrecen. However, we recommend the following comfortable and affordable hotels within walking distance from the University:
HOTELS (distance order)

(15 minutes by walk)
Hotel Nádix ***
http://www.hotelnadix.hu/

(29 minutes by walk)
Némethy Panzió
http://www.nemethypanzio.hu/eng

(29 minutes by walk)
Hotel Óbester ****
http://hotelobester.hu/

(30 minutes by walk)
Péterfia Panzió
http://peterfiapanzio.hu/en/fooldal_en/fooldal.htm

(33 minutes by walk)
Hotel Lycium ****
http://www.hotellycium.hu/


Cheap Hostels (distance order by walk)
There are limited rooms in student hostels:

(3 minutes by walk)
Kossuth Kollégiumok:
http://www.kossuthkollegiumok.hu/arak.hu.php

(25 minutes by walk)
Tisza István Kollégium:
http://kollegiumok.tek.unideb.hu/kollegium/tisza_istvan

(25 minutes by walk)
Márton Áron Kollégium:
http://www.martonaron.hu/hu/debreceni-masz/szallaslehetoseg/

Arriving
Debrecen is situated in East Hungary and can be reached by car, train and airplane. Budapest (capital of Hungary) also can be reached by airplane. For most international travelers, arriving first to Budapest and then taking a train or an airport transfer to Debrecen provides probably more flexibility than flying to Debrecen directly. It depends where you are coming from though, so please check the site of the Debrecen Airport for destinations and schedules.
From Budapest, there are hourly direct trains to Debrecen (2.5 hours) departing from either the Keleti Pályaudvar (Eastern Railway Station) and from the Nyugati Pályaudvar (Western Railway Station). If you are flying to Budapest, you don't need to go into the city center to take a train. Your flight will arrive to the Liszt Ferenc International Airport, Terminal 2, and there is a train station at Ferihegy (former Terminal 1). From Terminal 2 the Ferihegy train station is accessible by bus number 200E during the daytime and with night bus number 900 at night time, but probably taking a taxi is the easiest (the taxi will take you there in about 5-10 minutes for a flat rate, less than 10€). Once at the train station, you can take an InterCity train to Debrecen. You can purchase your ticket online. See the link below for train schedules, and online ticket purchase.
Also, there are several airport shuttle services that will pick you up at the airport and take you directly to the University, your hotel, or whatever address you specify. We recommend a few of companies that provide airport shuttle transfer below, but there are many others on the net.
If you arrive by train to Debrecen, you have to take the tram (there is only one tram line operating at the station, so you cannot miss it, it is line number 1) that takes you from the train station to the University (final stop of the line).
Train information:
http://elvira.hu/english/index.php
Budapest airport:
http://www.bud.hu/english/passengers/access_and_parking/by_public_transportation
Debrecen airport:
http://www.debrecenairport.com/en
Door-to-door airport shuttle services:
http://www.civistranszfer.hu/index.php?lang=en
http://agoratrans.hu/oldal/rolunk.html
http://www.el-szallit.hu/en_EN/kezdolap