Behavioural Ecology
Behavioural Ecology

The Behavioural Ecology Research Group of the University of Debrecen
investigates the behaviour of animals ranging from hydras, throught
firebugs and birds to mice. Our interest is twofold. First, we analyse
the adaptive value of behavioural traits by means of theoretical models.
Second, we test the predictions of our models on wild populations of
animals.

Behavioural Ecology Research Group,
Department of Evolutionary Zoology, University of Debrecen,
Debrecen, H-4010, Hungary
Phone: +36 52 512-900 ext. 62334 or 62356, Fax: +36 52 512-941
For more details follow this link: http://zoology.unideb.hu/research/vocs/
Population Genetics
Population Genetics

Population Genetics Research Group works on threatened and endangered insect species (mostly butterflies). Members of the group study the genetic diversity on different levels. First of all we investigate enzyme polymorphism by polyakrylamide gel electrophoresis. In addition we analyse morphologic variability of wings and genital organs using the toolbar of traditional and geometric morphometry. The Research Group is planning to do DNA studies in the near future.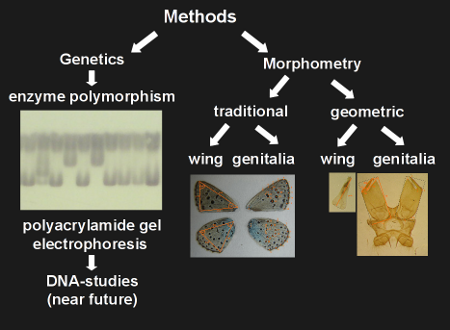 For more details follow this link: http://zoology.unideb.hu/research/popgen/
Entomology and Conservation Biology
Entomology and Conservation Biology

The Entomological and Conservation Biological Research Group carries out laboratorial and field research on insects and other invertebrates. Our topics typically have strong taxonomical base with evolutional and biogeographic questions combined with conservation biological aims. Such investigations provide a basis for a network of cooperations with research groups of our and other departments of the Institute of Biology and Ecology of the university; and of other Hungarian and foreign universities, institutes and national parks.
The most important topics of such cooperations are: conservation genetics, phylogeography, morphometry, community- and behavioural ecology, sociobiology and parasitism. We keep several courses where the Zootaxonomy, coordinated by us, has been a basic course of the Department since 1929.
For more details follow this link: http://zoology.unideb.hu/research/entomology/